Are you looking for The Devil All The Time Movie Review? Have you ever seen the most talented and popular stars in the industry play the role of the disgusting people? Not one or two, almost everyone. Some are killing people out of desperation, some are committing adultery, some are cheating people in the name of religion and some are brokers.
If you think the great cast of The Devil All the Time on Netflix is ​​going to be a movie that will be very enjoyable, then you will be surprised. I have seen how the lives of some people in a devout society in a rural area in the sixties merged with each other and affected each other.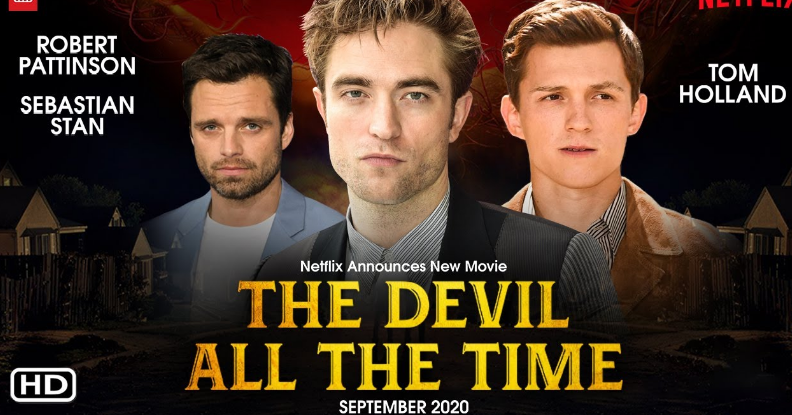 Strange in structure, this crime drama thriller shows a lot of stories together and in the end, it seems like it would be better to present it in the form of a TV series. If that was the case, it would have been very monotonous again, because the movie of 2 hours and 18 minutes seemed very slow. I have no problem with slow movies unless I understand where the story is going, or if there is a character to choose from. The movie didn't feel right here for everyone. So let me write The Devil All The Time movie review now.
The Devil All The Time Movie Review
Kids will catch Robert Pattinson (Batman), Tom Holland (Spiderman), Bill Skarsgard (Penny Wise), Sebastian Stan (Winter Soldier) if they sit down to watch with family. Because there is nothing fun here. Favorite actors are almost all as ugly as people. Movie-filled murder, obscenity, crazy behavior.
Period set design, the cinematography is excellent so can be easily lost there, but does not want to stay. A world where there is only one desire to enter – when another beloved actor will appear. Everyone is great in terms of acting. Robert Pattinson, Bill Scargard, Tom Holland – no one seems to have done that before. Pattinson in particular proved once again what kind of actor he is. Tom Holland is the biggest surprise for me. I couldn't imagine such an actor living inside Spider-Man's sweet boy.
However, the pacing seems to be slower as the movie has a blind devotion to religion and an ongoing background narration in the treatment. I finished the movie in about 3 seasons. Seeing the first one hour, it seemed like two hours of watching. There is no specific main character, everyone's life is deeply involved, in the case of the movie The Place Beyond the pines. However, in terms of tone, it is more old-fashioned. More depressing. If it was a Tarantino movie, there would be more humor. But it is very serious. Such movies are usually preferred by critics. But in this case, I see the opposite.
Which is good because of the weird psychological story. A great movie. I thought. We all have devils inside. And the stigma of superstition was not only in South Asia but also in Europe. That's pretty interesting.
Also read: The Shawshank Redemption Movie Review
It would be nice if the movie was presented as a series, I agree with that. However, after reading your review, I know why it seems that you did not understand the main purpose of the story of the movie. Don't get me wrong.
Also read: Best Foreign Language Movies
But, I think the movie is very intelligently questioned by the characters of Nokemstiff's society about the natural notion of faith-disbelief, justice-injustice, divine-demonic, etc.
The Devil All The Time Movie Cast:
Bill Skarsgård
Riley Keough
Jason Clarke
Sebastian Stan
Haley Bennett
Eliza Scanlen
Mia Wasikowska
Robert Pattinson
Verdict:
Although the storyline may seem boring, it does not have a single purpose like other movies, but, think, the director did not go to explain this movie from anyone's single point of view. And so maybe E Star was a cast. It must be admitted that some moments were extraordinary in general.
Understood but there was a problem with the presentation. I also mentioned the problems. In the end, it was Ogulai who clouded the overall experience. I watch a lot of slow movies, but I don't like the narration, the storytelling style.
Even from a religious point of view, the first part was better, there was a focus. Later, it seems that it is more underdeveloped and loud. So I didn't talk about the meaning of the movie anymore, because the whole time seemed too late. But it's good to know those mainstream viewers like this kind of film.
Thanks for reading The Devil All The Time movie review. I hope you get almost every detail you wanted before watching the movie. If you want more movies review then you have to stay with us, thank you.