Today we're going to go through registering a brand new domain, so let's get started. You've probably taken some time to think of the perfect domain for your business, your blog, your website, and now it's time to see if it's available online and see if you can register it. We're going to start here in the Customer Portal, and I'll also show you how to do this if you're not currently a customer as well.
If you're logged into your Customer Portal, we will click on the 'Domains' tab here on the left-hand side. That's going to take us to our 'Domain Management Section,' where I can manage every domain that I have already, or I can register a new one or transfer an existing one from a different registrar if I want to. I'm going to click on the 'Register Domain' button there at the top, and it's going to take me to the 'Search Domain' section.
That's how you get there if you're from the Customer Portal, but you can also go to hostgator.com/domains and start this process right away. It's pretty much the same from here on out. I want to show you two different ways to get there. Let's head back, and what I'm going to do is type in the name of the domain that I want to register today. I want to get joshmakestutorials.com, so what I'm going to do is type that name into the search bar and then click search.
Buy Domain From HostGator
Give it a few seconds to think and check across the web to see if anybody has it, and they don't! I can absolutely register this domain. Very cool! Now that I know it's available, the next thing I want to do is look here at the 'add domain privacy.' Now what this is is really important depending on what you want for your business. So I'm going to go back to our Customer Portal here and show you what I mean.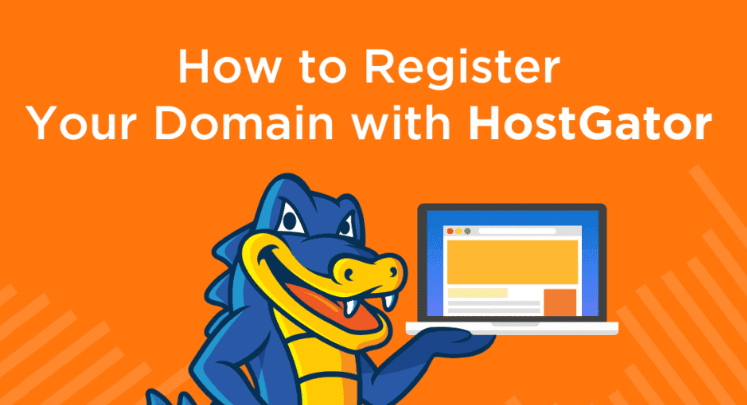 Domain Privacy essentially allows us to mask all of the available information on the web for my domain. So whenever you register a domain, your email, your address, and your name will be visible if you don't have privacy protection. It's important to come here into the customer portal to see what current information is set to. If you don't want your email address your address or your phone number out publicly visible on the web, it's a good idea to add that domain privacy protection.
How To Change Your Domain Nameservers (DNS)
I also want to think about one special thing here, and that's my primary email on file. To register a domain, I'm going to have to get an email sent to me to verify that I'm actually a person. I always want to make sure that my primary email is up to date and that I can actually get email there because if I can't click the verification from that email, then it's going to take a long time to register this domain (or cause problems with the registration).
Hostgator Domain Registration 2021
Now that I've checked that all my information is correct, I'm going to head back, and I will complete the process. I'm going to leave privacy protection on. I think it's a great cost, 15 bucks a year. Pretty good, so that way I don't get a whole bunch of spam emails and calls. Now that I know that my domain is there, I'm going to do one more thing. I'm going to double-check to make sure that my domain name is spelled correctly.
I have registered an incorrectly spelled domain before. It was cool. I bit the cost, and I just made a testing website for about a year, but always double and triple-check that to make sure it's exactly what you want to register. The next thing that you're going to choose is your payment option. If you've got a card on file, cool, go ahead and use that. You can add a new card here. For me, I'm going to use the PayPal option.
How to Reset a WordPress Password from phpMyAdmin
Then we'll click continue to check out. Now it's going to do a double verification here for me, and it's going to give me the name of the domain, the fact that I have privacy protection, and it'll actually give me the option to register it for longer if I want to. For me, I want this for a year, so I think it'll be good for me now. On here, you have the option to set custom name servers, so if you've already watched our earlier videos on how to track down your name servers for your domain, you can put those here and save a little time, or you can leave them, and it'll put the default name servers.
Domain Control Panel Settings
You can also enhance your online presence if you buy a couple of extra TLDs, so you want joshmakestutorials. The site, .info, .org, you can always pick those as well. If you've got a discount coupon code, you can go ahead and add that. We'll scroll down to the bottom, and you've got our terms of service, the domain registry policy, and the privacy policy you're always welcome to read.
Once you've accepted all those clicks that little check box and click place your order. After that, it's really just the process of the payment being made, and all you'll really need to do is wait for the domain to provision so that it can take some time. Usually 24 to 48 hours for the provisioning process. Once it's done, you'll actually see that domain inside of your Portal. We can head back, and I'll show you what that looks like.
Click on 'Domains' here, and as you can see here, I've got joshmakestutorials.com, and it says domain pending; payment has not yet been received. Once I complete that payment on PayPal, it will go into the provisioning process, usually 24 to 48 hours. And that's it! You just registered a brand new domain. Congrats!