If you are looking for Se7en movie then you are at the right place. As always, thriller genre movies are on my list of favorites. And if that is serial killing, then there is no more talk. I had heard a lot of names in the movie a long time ago. But now it is one of the best serial killing movies I have ever seen.
Plot: I don't want to say much about the movie. A police detective! Whether he will retire after 7 days. Suddenly a horrible murder case came into his hands. He is not interested in retiring until the case is resolved as he is very interested in the case. The story of this movie goes on with 6 sins and 8 murders.
Acting: There is nothing to say about the actions of the actors in this movie. Because there are some of the best actors in the world like Brad Pitt and Morgan Freeman. What level of performance did the two of them tie on the screen? Gwyneth Paltrow and John C. McGinley also had good performances in the movie.
Also read: The Shawshank Redemption Movie Review
Se7en Movie 1995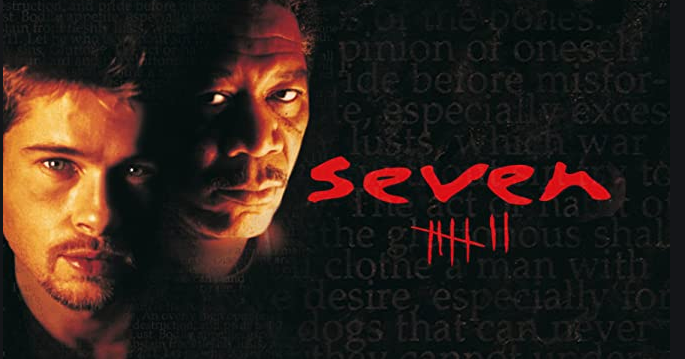 Movie ► Se7en
Directed by David Fincher
Genres ► Crime, Thriller, Mystery
Star Cast ► Brad Pitt & Morgan Freeman
Release date ► September 22, 1995
Running time ► 127 minutes
Country ► U.States 🇺🇸 || Language ► English
Production Company ► Cecchi Gori Pictures
Also read: Best Foreign Language Movies
Verdict:
The Final Verdict ► Overall, Brad Pitt & Morgan Freeman's film Se7en is a pure thriller masterpiece 💯 Highly Recommended for every thriller film lovers
Personal Opinion: Every murder is a different kind of murder. Each killer has a different twist! Murder No. 3 had a twist like feeding and finishing? I couldn't help but admire it. Many thriller lovers have seen this movie. For those who haven't seen it yet, check out the list now!